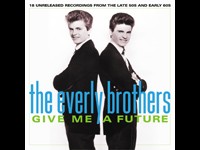 Another 18 unreleased Everly Brothers recordings for the Acuff-Rose Publishing catalog. All but two were recorded in the late 50s to early 60s, and have the Everlys performing a slew of never recorded gems! Some later recorded for Cadence, Warner Bros and Ode.
This is The Everly Brothers in prime form, just on the cusp of stardom; two guitars and two voices in beautiful harmony.
Don's 'Hello Amy' is so special, and so is 'Vegas' from the 72.
Also amazingly different solos by Phil that you will cherish.
Tracks:
Give Me A Future - Maybe Tomorrow - How Did We Stay Together - Since You Broke My Heart - You're The One - Will I Ever Have A Chance Again - Who's To Be The One - Don't Call Me, I'll Call You - Captain, Captain - You Can Fly - Her Love Was Meant For Me - Hello Amy - I'll Bide My Time - Oh What A Feeling - Turned Down - I'm Tired Of Singing My Song In Las Vegas - I'm Gonna Make Real Sure - Only Me