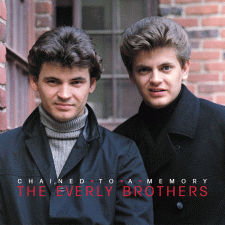 The final chapter in the Everly Brothers' recorded legacy is completed with this third box set (in Bear Family's series) covering the recorded works of the legendary Everly Brothers. Including all existing masters for their sessions from 1966 through 1972, 'Chained To A Memory' chronologically collects singles, album tracks, outtakes and rarities recorded for the Warner Bros. and RCA labels. As a special bonus a 1965 Swedish concert is included.
The enclosed DVD contains rare clips from 'Hullaballoo,' 'Swingin' Time', 'Hollywood Palace,' and the Petula Clark Special, plus the rare 1959 Swedish Production, 'The Archie Bleyer Show.'
The box is topped of by a mammoth hardbound book, illustrated with hundreds of images (many of which are heretofore unseen) and a full discography featuring recording information and extensive personnel credits.
Placed alongside Bear Family's 'Classic Everly Brothers' box (which collected the duo's Columbia and Cadence sides) and last year's 'Price Of Fame,' this is the be-all-and-end-all for Everly enthusiasts. This box set makes all other releases of the Everly Brothers from this era obsolete.
Tracks:
CD 1:
June Is As Cold As December - Glitter And Gold - Lovey Kravezit - The Doll House Is Empty - (You Got) The Power Of Love - Leave My Girl Alone - (Why Am I) Chained To A Memory - Don't Run And Hide - Have You Ever Loved Somebody - Fifi The Flea - Hard Hard Year - Like Everytime Before - Signs That Will Never Change - The Collector - So Lonely - I've Been Wrong Before - Kiss Your Man Goodbye (#3) - Pretty Flamingo - Somebody Help Me - When Eddie Comes Home - The Devil's Child - She Never Smiles Anymore (take 1) - She Never Smiles Anymore - Nothing But The Best - Sea Of Heartbreak - Blueberry Hill - Good Golly, Miss Molly - (I'd Be) A Legend In My Time - I'm Movin' On - Sticks And Stones
CD 2:
Oh, Boy! - Let's Go Get Stoned - Trains And Boats And Planes - Even If I Hold It In My Hand (take 2) - Even If I Hold It In My Hand (take 10) - The House Of The Rising Sun (take 1) - The House Of The Rising Sun (take 4) - Bowling Green (demo) - I'll Be Gone (demo) (backing track) - I Don't Want To Love You - Bowling Green - Mary Jane - A Little Bit Of Crazy - Do You - A Voice Within - It's All Over (overdub & remix of old recording) - Mercy, Mercy, Mercy - A Whiter Shade Of Pale - Talking To The Flowers - Deliver Me - I'm Finding It Rough - They Smile For You (backing track) - Love Of The Common People (take 1) - Love Of The Common People (composite) - Love Of The Common People (take 23) - My Elusive Dreams (take 1)
CD 3:
You're Just What I Was Looking For Today (take 7) - You're Just What I Was Looking For Today (take 9) - Lord Of The Manor - It's My Time - Bonsoir Madame (backing track) - Empty Boxes - Love With Your Heart (#1) (take 4) - Love With Your Heart (#1) (Master) - You Done Me Wrong (alternate mix) - Milk Train - - ROOTS LP: - Intro: Everly Family - Mama Tried (7/20/68 & 9/26/68) - Less Of Me (7/16/68) - T For Texas (7/20/68) - I Wonder If Care As Much (9/17 & 19/68) - Ventura Boulevard (7/12/68 & 10/14/68) - Shady Grove (7/17/68) - Illinois (9/30/68) - Living Too Close To The Ground (10/7/68) - You Done Me Wrong (4/10/68) - Turn Around (7/12/68, 9/23/68 & 10/14/68) - Sing Me Back Home (7/16/68 & 9/25/68) - Montage: Everly Family/Shady Grove/Kentucky - - The Weight (take 9) - Deep Water (backing track) - Medley: Lady Anne/Blue Balloon (demo) - Roots promo sampler
CD 4:
Lady Anne (demo) - Shop Girl (demo) - Omaha - Human Race (#1) - Mr. Soul (mix #1 1/6/69) - In The Good Old Days (When Times Were Bad) (mix #1 1/6/69) - Down In The Bottom (mix #1 1/6/69) - Love With Your Heart (#2) - Mr. Soul (mix #2) - In The Good Old Days (When Times Were Bad) (mix #2) - Down In The Bottom (mix #2 - remake) - Glory Road - My Little Yellow Bird - I'm On My Way Home Again (demo) - Cuckoo Bird - Eden To Canaan (take 2) - Eden To Canaan (Nice Guys) - I'm On My Way Home Again (take 1) - I'm On My Way Home Again (single) - Carolina In My Mind - Casey's Last Ride #1 (take 1) - Casey's Last Ride #1 (take 9) - Stained Glass Morning
CD 5:
Yves - Human Race (#2) - Introduction - Mama Tried - Kentucky - Bowling Green - ('Til) I Kissed You - Wake Up Little Susie - Cathy's Clown - Bird Dog - Maybelline - Medley: Rock And Roll Music/The End/Aquarius/If I Were A Carpenter/The Price Of Love/Rock And Roll Music/The Thrill Is Gone/The End/Games People Play/The Price Of Love - Baby What You Want Me To Do - All I Have To Do Is Dream - Walk Right Back - Medley: Susie Q/Hey Jude - Lord Of The Manor - I Wonder If I Care As Much - Love Is Strange - Medley: Let It Be Me/Give Peace A Chance - Duster Spot
CD 6:
The Brand New Tennessee Waltz - Casey's Last Ride (#2) - Old Kentucky River - Green River - Breakdown - All We Really Want To Do - Poems, Prayers And Promises - Mandolin Wind - I'm Tired Of Singing My Song In Las Vegas - Ridin' High - Lay Me Down - Del Rio Dan - Three-Armed Poker-Playin' River Rat - Christmas Eve Can Kill You - Stories We Can Tell - Poisonberry Pie - It Pleases Me To Please You - Up In Mabel's Room
CD 7:
Lay It Down - I Can't Be Myself - Sweet Memories - Rocky Top - Survival Of The Fittest - Not Fade Away - Paradise - A Nickel For The Fiddler - Somebody Nobody Knows - Watchin' It Go - Woman Don't You Try To Tie Me Down - Good Hearted Woman - Husbands And Wives - Ladies Love Outlaws - Maiden's Prayer - Send Me The Pillow You Dream On (#2) - I'm Alone Because I Love You - Don Everly Talks About Pass The Chicken And Listen
CD 8: A Live concert recorded by the Swedish Broadcasting Ltd, at Radiohuset Studio 4, Stockholm, Sweden, April 22, 1965
Intro / Lucille - Susie Q – Raunchy - Walk Right Back - Bye Bye Love - Gone Gone Gone - (instr.) - Outskirts Of Town - Bird Dog - So Sad - Lucille
DVD:
1. The Archie Bleyer Show (1959) February 9, 1959 a) Andy Williams: Are You Sincere b) The Everly Brothers: All I Have To Do Is Dream
c) Chordettes: Lollipop d) Everly Brothers in Nashville e) Andy Williams in New York f) The Chordettes in New York g) The Everly Brothers: Long Time Gone h) Andy Williams: Meet Me Where They Play The Blues i) Chordettes: Wonderful One j) Archie Bleyer's 'Rock Around The Clock Party' a) Everly Brothers: Problems b) Chordettes: No Other Arms, No Other Lips c) Andy Williams: The Hawaiian Wedding Song (with Gunilla Florell) k) Cast: Now Is The Hour - 2. Intro Paul Anka: You're My Girl (Hullaballoo, February 2, 1965) - 3. Intro Steve Lawrence: Lonely Weekends (Hullaballoo, April 13, 1965) - 4. I Got A Woman (Hullabaloo, April 13, 1965) - 5. All I Have To Do Is Dream (with Steve Lawrence) (Hullaballoo, April 13, 1965) - 6. Grammy Award Medley I Want To Hold Your Hand (with Jackie & Gayle) Steve Lawrence: People Francoise Hardy: The Boy From Ipanema Downtown (with Steve Lawrence & Francoise Hardy) (Hullaballoo, April 13, 1965) - 7. Intro Trini Lopez: The Price Of Love (Hullaballoo, January 17, 1966) - 8. Wake Up Little Susie/Bye, Bye Love/Bird Dog (with Trini Lopez) (Hullabaloo, January 17, 1966) - 9. Bye, Bye Love (Swingin' Time, February 1966) - 10. Wake Up Little Susie/All I Have To Do Is Dream/Bird Dog/Devoted To You (Swingin' Time, February 1966) - 11. Cathy's Clown (Swingin' Time February, 1966) - 12. Intro Roy Rogers & Dale Evans: Mama Tried (color) (Hollywood Palace, November 8, 1969) - 13. All I Have To Do Is Dream/Wake Up Little Susie/Bye, Bye Love (color) (with Roy Rogers & Dale Evans) (Hollywood Palace, November 8, 1969) - 14. The Games People Play (with Petula Clark) (color) (Petula Clark Special, Petula, December 6, 1970) - 15. Let It Be Me (color) (Petula Clark Special, Petula, December 6, 1970)